What Drives My Pursuit for Justice?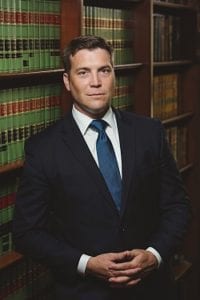 I want to thank you for considering my firm to represent you in your case. Whatever you may be facing, please know I will work hard for you just as I have worked for over ten years as a trial attorney for my many other clients. I thought I'd take a moment to share with you a bit about me and what drives me to seek justice for you.
Since I started my own practice nearly over five years ago, I've worked and fought hard for my clients. I've often been asked what brought me to the legal field and I admit I grew up with two great influences on my sense of right and wrong and fairness. My father is a judge and my step-father was a defense attorney. Whether it was those two, or my young influence from Clarence Darrow and Inherit the Wind, I believe that they all gave me the desire for justice, especially against the excesses and abuses of big business and government.
"As long as the world shall last there will be wrongs, and if no man objected and no man rebelled, those wrongs would last forever."
Clarence Darrow
During my two years clerking for Chief Judge James S. Kirsch at the Indiana Court of Appeals, I learned a tremendous amount, especially about writing effectively for my cases. He cemented my desire to seek justice. Since then, I've worked at two firms prior to starting my own. I've been awarded the Rising Star designation by Super Lawyers from 2013-2016, an honor received by only 2% of the attorneys in the state. Also, I recently received the Max Goodwin Young Lawyer Excellence in Advocacy Award.
I am admitted to practice before the Indiana's Northern and Southern Federal District Courts and, separately, the 7th Circuit Court Federal Court of Appeals.  Additionally, I'm admitted to practice in Indiana State courts. My membership affiliations include the American Bar Association, Indiana State Bar Association, American Association for Justice, and Indianapolis Bar Association. I am also a Board Member of the Indiana Trial Lawyers Association. These memberships give me access to great resources and the ability to learn from my peers and the many counsel who have blazed these litigation trails before me.   I constantly seek to improve my practice and to excel at delivering your case in the most effective light.
If you have more questions for me, I invite you to ask me during your free initial consultation. Give me a call at 317-456-7889 to schedule an appointment or fill out our easy to use contact form and we'll call you.